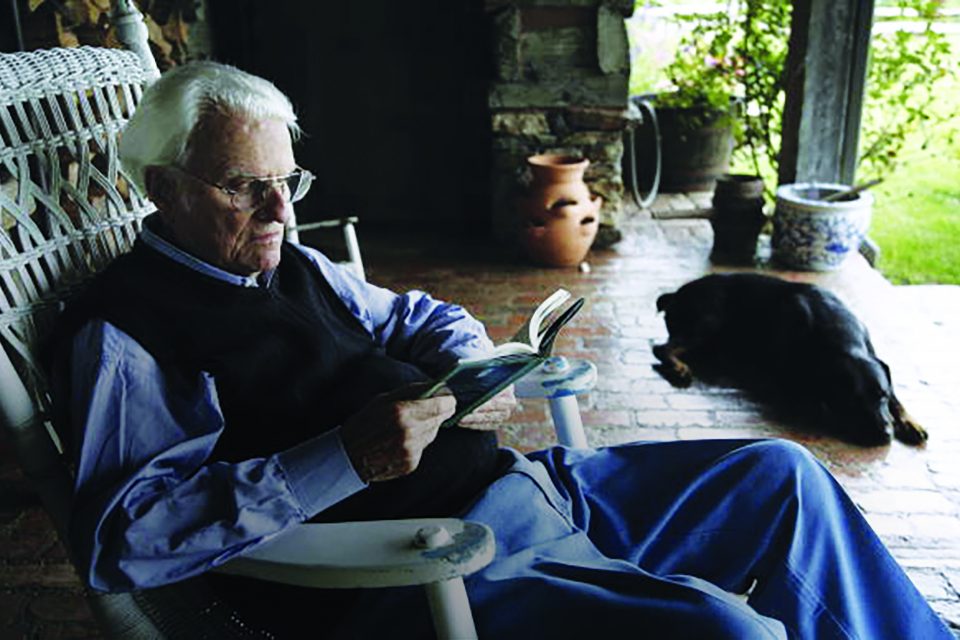 If you could ask Billy Graham a question, what would it be? I had that opportunity while working with him on his last several books, including his new book Where I Am.
Weeks before his 95th birthday, he said, "I am ready to start my next book!" We had recently completed work on his book The Reason for My Hope—Salvation. It was the fall of 2013. Thinking he would want a break from going through drafts of another manuscript, I was stunned at his drive and asked: "Would you like to take a little break and start work on a new book after Christmas?" "No," he said, "I might not be here next year!"
Oh, but he was—and still is. Nearly two years later, at almost 97 years old, his 33rd book will be released. He had remarked about the contemporary books that had been written on Heaven and Hell. There was still a book he wanted to write on this subject because, he said, "Many people today do not understand the fundamental truths about mankind's eternal destinations and that each person has a choice to make concerning the most critical matter of life—where they will spend eternity after death."
"Mr. Graham," I replied, "you have written and preached on Heaven and Hell for nearly 80 years."
"Well," he quipped, "I don't feel quite that old." In spite of his weak eyesight he said with a twinkle, "I just may live until my 100th birthday! … The more I listen to the news of what is going on in the world, and in the church, there is great confusion about the end times. Some people wonder how to get to Heaven and others don't seem to care if they wind up in Hell. God has a lot to say about this, and He has not kept His promises hidden, but few pastors preach on it today. I would like to shed some light on what the Bible has to say about the subject of eternity for today's generations."
He asked me to assemble an outline from which we could work and ended the meeting with this thought: "Do it quickly because I'm an old man," he said with a sense of Graham revival in his voice.
Before I left that day, I posed this question: "When people ask if Heaven is a literal place and where it is, what will you tell them?" Looking through the window that framed the beautiful Carolina mountains surrounding his home he proclaimed, "Of course Heaven is real because Jesus is real—He is the way, the truth, and the life—and Heaven is where Jesus is—and I am going to Him soon."
In our several visits we talked about the wonderful aspects of a heavenly home and the devastating darkness of those who will never know such joy. He wished he could take all those who do not believe in the Savior to the foot of His cross where they could settle their eternal destination once and for all and have the hope of eternity in Heaven.
Pouring through his literary works that span nearly eight decades, a fascinating outline emerged and, in time, the book Where I Am was completed—with foundational teaching from the Word of Almighty God. It is not surprising that all 66 books of the Bible point to everlasting life. It is a repetitive theme of Scripture. While Mr. Graham's preaching was the Gospel message of Jesus Christ, his evangelistic aim was to focus the light of salvation on eternity—where the human race will transcend the confines of a fallen world.
This man who wants to be remembered as a preacher of the Gospel of the Lord Jesus Christ has said, "Man is precisely what the Bible says he is. Human nature is behaving exactly as the Bible said it would. The course of human events is flowing just as Christ predicted. And God's Word is real—from eternity past to eternity everlasting." This is the essence of his new book Where I Am.
God's Word is eternal, and eternity's destinations will last forever. He has declared that mankind can choose the eternal flame of His judgment or live forever in His everlasting peace. The Good News is that God sends out a booming invitation that says: "Return to Me; come and share My eternal home and be with Me where I am." That is Heaven! That is Home eternal!
Who would not want to be where Jesus is? He is preparing a place for those who love and serve Him—now! Jesus has filled this place with the riches of His eternal truth and everlasting righteousness where the fruits of His works will be forever glorified. There will be continual rejoicing over His eternal wisdom. The Bible proclaims that we will praise Him continually and serve Him unending before His eternal throne when He reigns—eternally!
In this book, Billy Graham points to God's eternal deliverance, God's eternal sacrifice and God's eternal love and joy. These are the anchors at the heart of Mr. Graham's sermons that have drawn millions of people to their hour of decision. The everlasting Gospel that is washed in His eternal love will be proclaimed until the end. When that day arrives—eternity will come clearly into view. Mankind throughout the ages will witness the eternal kingdom and the everlasting King on His throne forever. This is why Jesus calls the lost and weary to His everlasting salvation with this promise of eternal forgiveness, mercy, grace and love: "That where I am, there you may be also" (John 14:3).
©2015 BGEA
The Scripture quotation is taken from The Holy Bible, New King James Version.
Do you know where you'll spend eternity? Be sure today.