From a frigid, front-line Christmas to the halls of the nation's military academies, Billy Graham brought the Gospel and a ministry of caring presence to those who defended freedom.
"My first sermon on the front lines saw me on a newly built platform graced by a painting done by a soldier forty miles away," Mr. Graham wrote in his autobiography, "Just As I Am." "Troops had carried the painting (which depicted Christ watching over an exhausted soldier) to us overnight, and it stood next to me as I preached. I did not use humor or stories to break the ice that night. I dove right into the Gospel, and hundreds responded. I felt the Spirit of God in that meeting. Men of every rank came forward, many in tears—and they were tough, rugged men!—to receive Christ."
That 1952 visit to the front lines of the Korean War also took Mr. Graham to evacuation hospitals and field hospitals, where he went from bed to bed to speak and pray with injured troops.
Twice, in 1966 and 1968, Mr. Graham visited the troops in Vietnam at Christmastime, going to aircraft carriers, air bases, hospitals and jungle outposts. Although reporters all wanted to know whether or not he supported the president's handling of the war, Mr. Graham said he always gave the same answer: "My only desire is to minister to our troops by my prayers and spiritual help wherever I can."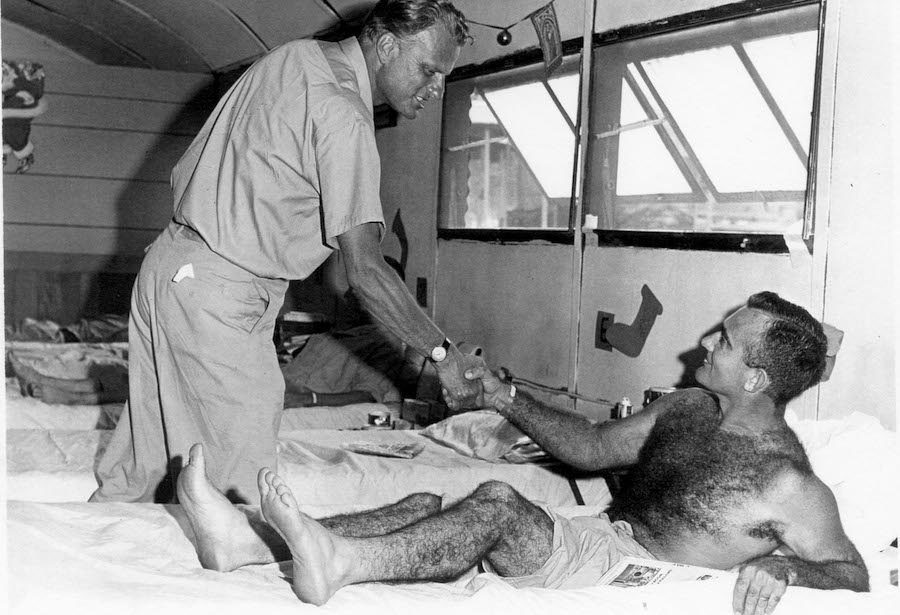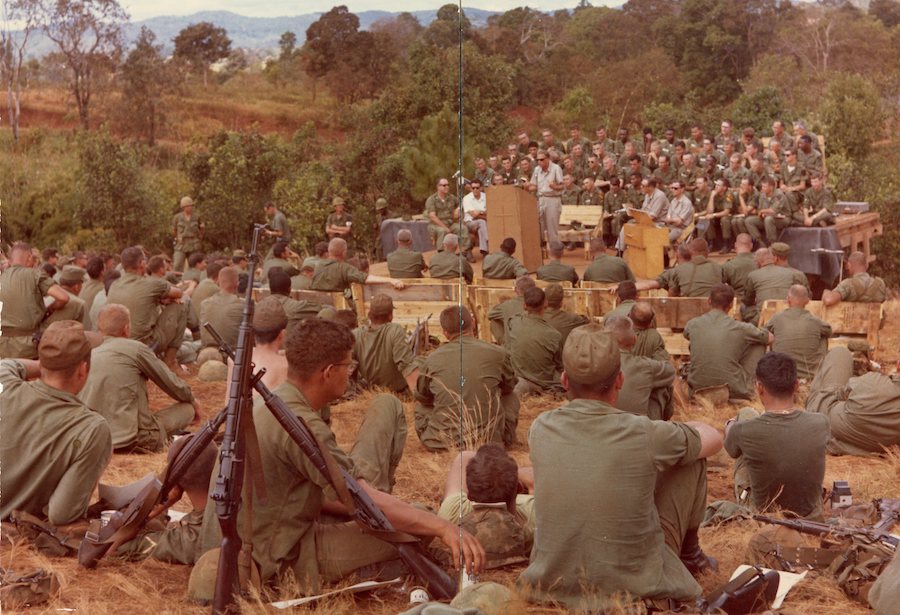 In 1960, during Mr. Graham's Washington, D.C., Crusade, he preached in the inner courtyard of the Pentagon to 7,000 civilian workers and military personnel, telling them that following Christ is the only way to lasting peace.
Over his years of ministry, Mr. Graham also preached at the U.S. Military Academy at West Point, New York; the U.S. Naval Academy at Annapolis, Maryland; and the U.S. Air Force Academy at Colorado Springs, Colorado.
Today, the Billy Graham Evangelistic Association continues Mr. Graham's legacy of honoring and ministering to military personnel and their families.
BGEA has hosted a number of military marriage retreats at the Billy Graham Training Center at The Cove, helping couples to reaffirm their commitments to one another and seeing many attendees commit their lives to Jesus Christ. The next military marriage retreat is scheduled for Feb. 10-12; for more information, go to TheCove.org.
The Cove has also held several retreats for military chaplains and their spouses, helping to encourage and spiritually refresh those who minister faithfully to those who serve in the military.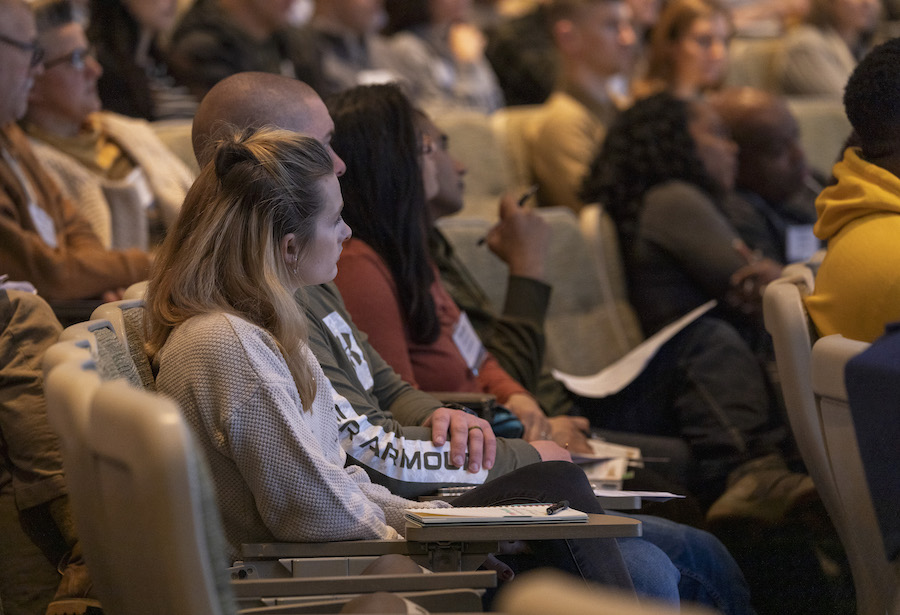 For those who know the grief of losing a spouse in the line of duty, The Cove also hosts Gold Star Wives retreats.
And the Billy Graham Library, which reopens for its annual "Christmas at the Library" Nov. 28-Dec. 23 after a major renovation, offers a 10% discount to both active duty military personnel and veterans at Ruth's Attic bookstore and the Graham Brothers Dairy Bar café.

Above: Billy Graham visits troops in Korea during Christmastime in 1952.
Photo: BGEA Archive