The Billy Graham Rapid Response Team's (RRT) crisis-trained chaplains have kept a frenetic pace in 2020. The RRT, a ministry birthed 19 years ago in the weeks following the 9/11 attacks, has deployed more than 40 times this year, responding to COVID-19 hot spots in Italy and New York City; wildfires and hurricanes in the American West and South; flooding in northern Alberta, Canada; and racial and political unrest in cities such as Minneapolis and Kenosha, Wisconsin. Across the world, human trauma is a constant and the message is the same: God loves you, and only through His Son, Jesus Christ, can true peace be found. The following is taken from an interview with Jack Munday, RRT international director.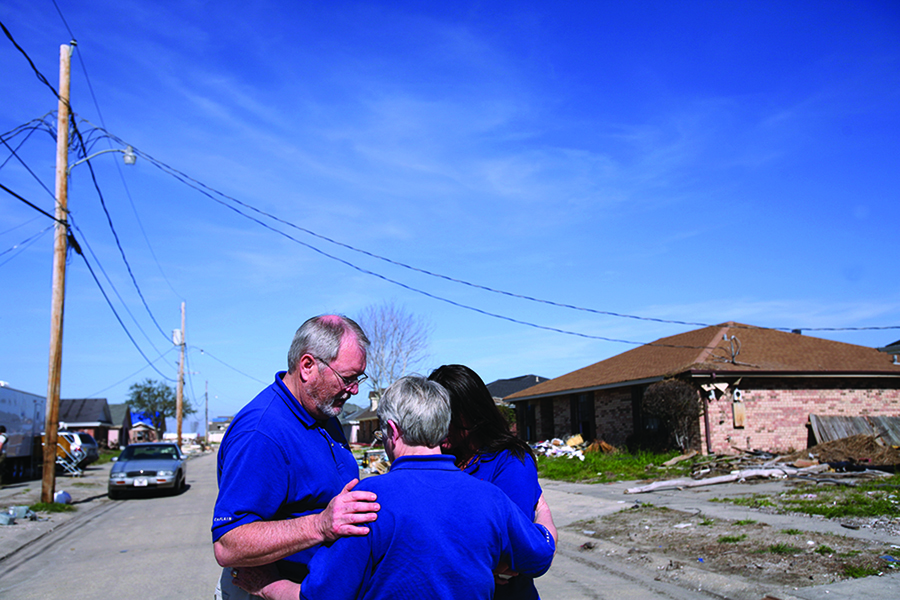 Q: It's been a very busy year for the Billy Graham Rapid Response Team. How would you characterize RRT's ministry this year?
A: It's been a year of unrest in the hearts of many people, caused not only by what we've seen on the streets but also for those who have experienced great loss as a result of a fire or flood or a loved one who is fighting COVID-19. Someone's life can be turned upside down for many different reasons. When we see the turmoil and the frustration and the anger on the streets, for example, we know that first of all, most people already have a personal crisis in their life. And that holds true, whether we're talking to a homeowner whose house has burned or someone on the street venting their frustration. And, of course, COVID is just another layer on top of everything else.
Everywhere we deploy, we do so with God's love and His hope. And we find ourselves in what we call the critical middle—we're not taking sides, whether it's law enforcement or the protestors, for example. Everybody needs to know that God loves them. There's a Gospel message we bring, through which we can introduce them to the Prince of Peace. That's the only lasting peace any of us are going to have.
Q: You have described RRT as having a "ministry of presence" in difficult situations. Have you noticed differences in how people are responding now compared to years past?
A: There are differences, but the root issues are really the same. There is an absence of peace that people have in their lives. We all can identify areas in our culture that need improvement. Any profession, whether it's clergy or law enforcement or accountants, human error is always there. Sin is always there. When we go on the streets, we find people who feel disenfranchised. They don't feel like there's been equity in their life and this is why we see the signs, "No Justice, No Peace." And then to contribute to that, many times, is false information that gets out fast about an incident, and we saw that in Ferguson, Missouri, in 2014 [after the death of Michael Brown]. When that happens, that leads often to things escalating into social unrest, chaos and looting. 
But there are some changes we've seen over the last six years. First of all, it's a somewhat different crowd. There is something called "intersectionality" that we've seen. This is where a person, say of a particular ethnic group, African American or Hispanic perhaps, is also LGBT. There are two points of intersection. Now if that person is also connected to Antifa or a group that is promoting anarchy, that's another intersection. So you calculate all the different connecting points—this type of activism has changed the composition of the crowds and given synergy to the unrest. It's a real mix. And that spirit of anarchy isn't held by any particular racial group. It's across the board. It's rich kids and it's poor kids and adults.
It's sad that those who are more interested in anarchy overshadow and oftentimes prevent the conversation that's needed to bring the equality and justice that we all recognize needs to be addressed. The laws are there to protect all of us equally. Where injustices occur, we know the problem lies in the human heart.
Q: So the Gospel sort of intersects through all points, for all people, right? We are all equally hopeless without Christ.
A: That's our message—that God so loved the world. It's the same hope that is offered to each person in Christ through faith and repentance. But to get there, we have found that the ministry of presence—to engage with the crowd, the individuals, to ask questions, open-ended questions and to listen—has an incredible value in defusing tense situations. 
Q: In practical terms, what would that look like in a place like Minneapolis, for example, after the George Floyd incident?
A: You might ask a bystander, "Hey, could you tell me what's going on here? I'd love to hear how you're thinking about it, your understanding." And you ask a few questions and you listen. It's not unlike if someone loses their home. They could be angry and upset, which is pretty normal. You talk with them and you listen, you show respect. In 1 Peter 3:15, it says to always have an answer for the hope you have, but "with gentleness and respect." And that's our ministry.
Q: Amid all this social upheaval, what encouragement would you give?
A: There is an openness to the Gospel right now. So we must remember that, one, God is faithful; and, two, the harvest is plentiful. In Matthew 9:36-38, it says Jesus was "moved with compassion because the crowds were being scattered like sheep without a shepherd." And then He said, "The harvest is plentiful but the laborers are few." We don't have to go make the harvest plentiful. It's already plentiful, the Scripture is saying. He's already working on people. That should be an encouragement for us to be ready when the opportunity presents itself.  
Interviewed by Jerry Pierce, managing editor.
Above: Kevin Williams, manager of emergency response and logistics for the Billy Graham Rapid Response Team, coordinates ministry in July at the site where George Floyd was killed at the hands of a Minneapolis police officer. 
Photo: Todd Sumlin/©2020 BGEA