The son of a pastor and a native Texan, 13-year-old Paul Mills had lofty dreams of becoming the next Michael Jordan.
"I became consumed with the guy," Mills, now 49, told Decision. "Mike inspired culture—everybody wanted to wear his clothes, his shoes. He showed up in Gatorade commercials and on other TV outlets—you knew this guy was way beyond just being a basketball player."
All these years later, Mills, currently the head men's basketball coach at Oral Roberts University (ORU) in Tulsa, Oklahoma, can reflect and trace God's providential hand working throughout his life—not as the next Michael Jordan, but as a coach with a ministry to players, fellow coaches and the watching public. That special combination of gifting and calling came together on March 19 in a conspicuous way.
It was that day during the 2020-21 season that ORU won its first NCAA tournament game in 47 years. And two days later, the Golden Eagles joined Florida Gulf Coast as the only No. 15 seeds to ever reach the tournament's "Sweet 16" round.
Mills has come a long way from the cracked blacktop courts in the Houston community of Aldine where he was raised.
"We grew up in an area of Houston that was poor. And we knew that we were poor," Mills said. "But to me, basketball is the sport of the poor in America. I could always run down to the end of my street, or to a local park, and somebody was bound to have a rubber ball.
"In my neighborhood, you could either sell drugs, get involved in music in some capacity or play sports. Given my upbringing, drugs was not an option. And music was an OK outlet. But sports were what I loved.
"At any given time, there would be 15 or 20 of us in the neighborhood playing basketball. And I learned that the better I got, the more I could play. So as a kid, I was really committed to becoming the best basketball player I could be."
Yet Sundays and Wednesday nights were reserved for church, albeit begrudgingly on Mills' part.
"Two hours on a Sunday morning, two more hours on a Sunday night, and another two hours on a Wednesday night—that was taking away from my basketball career!"
And given that his father's calling was to preach the Word of God, Mills didn't escape Bible study at home either.
"Every morning, from the time I was in sixth grade until 12th grade, my dad would read a passage to us—whether it be a Psalm or a Proverb—and we'd sit there at the table while he read," Mills said. "I don't remember a single Psalm or Proverb from all those years. But as I look back, I'm grateful for my dad's faithfulness of pouring the Word of God into his children before we ever walked out the door."
Immersed in the church his entire childhood, Mills found college to be countercultural to the Christian home he had grown up in.
"I went to a debate between an atheist and a Christian, and the atheist cleaned the floor with the Christian. It made me begin to wonder about things. Could that many animals actually fit on the ark, given its dimensions? Is it really possible to live inside of a big fish for three consecutive days? These were questions I was never forced to confront before."
Mills spent nine months diving into apologetics and questioning whether or not God existed.
"I wouldn't tell you that I became an atheist, but I did become an agnostic."
Yet at the end of those nine months, Mills came to the conclusion that everything revolves around the resurrection of Christ.
"John 5 tells us that all of Scripture is about Christ. Jesus called out the Pharisees for looking in the Scriptures to find eternal life and yet not recognizing Him when he was right there in front of them. All of Scripture is pointing to the person and work of Christ, and if Jesus believed it all—that this number of animals fit on the ark, and that Jonah was actually swallowed by a huge fish—then I'm not going to get caught up in the details.
"What I am going to get caught up in is a resurrected Savior who was actually willing to give His life," Mills said.
Mills transferred from Southern Nazarene University to Texas A&M after a back injury ended his playing career during his freshman year. Although the NBA was no longer a realistic plan for him, he still loved basketball, and he loved people.
And with his newfound security in Christ, Mills felt compelled to share the Good News with as many people as possible. But he had trouble attracting listeners. So he met them on the court.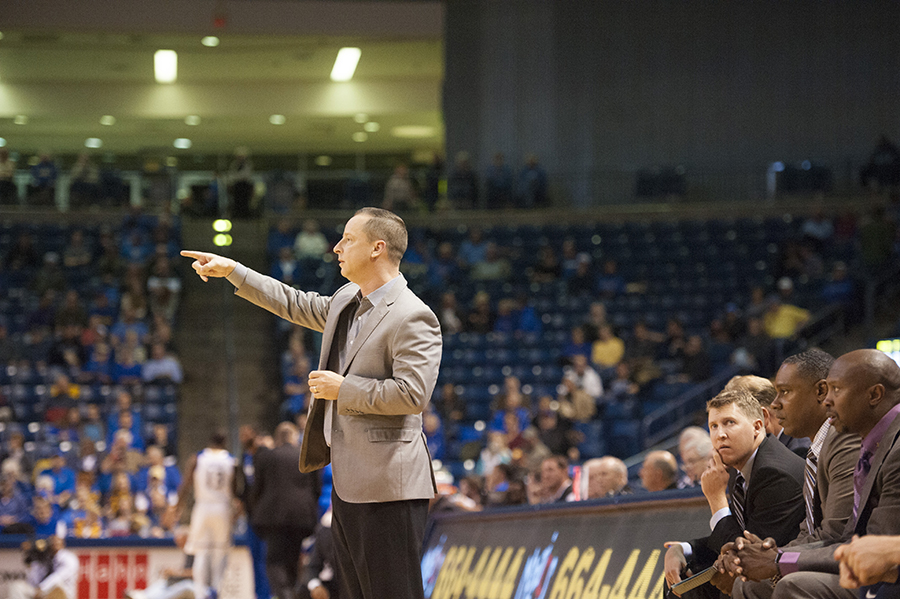 "If I asked people to show up to a Bible study, no one would come. But if I said, 'Hey, we're going to be at the gym, and we're playing basketball,' 50 kids would show up. So, basketball, in essence, became a carrot that allowed me to share the Gospel."
It soon became evident to Mills that God had instilled in him the spiritual gifts of teaching and leadership.
"Someone once said, 'A coach will impact more people in one year than the average person will in an entire lifetime.' I realized the value of sports and that I'm gifted at helping people through the game of basketball. I became consumed with helping and serving young men to fulfill their God-given abilities for His glory."
But over the years, Mills has realized his limitations.
"Whether or not players receive anything I'm saying, that's not up to me," he said. "It's not my job to fill players' cups. My responsibility is to empty my cup. My job is to make sure that when I walk out after practice I've given them everything I possibly could. It's a liberating feeling to know that God is going to do His work through the Holy Spirit."
Scott Drew, head coach of the Baylor Bears men's basketball team and Mills' former boss of 14 years, spoke of how Mills mirrors Christ to those around him.
"He is someone that really understands his priorities and his mission on earth," Drew told Decision. "He has such a passion and desire to reach young people, not just for winning on the court, but more importantly, for winning the game of life.
"I've always said he could be a Hall of Fame basketball coach, but he could also be an unbelievable pastor. When he shares the Word, it really resonates with our young people—and with me personally. I've grown so much spiritually from listening to him during our game day chapel services."
When asked how he would characterize Mills, Drew shared a story that he's sure Mills will "kill him for."
"There was a time when the school gave Paul a car to drive," Drew explained. "His old car—he could have given it to his wife; he could have sold it. But as he would drive to work, he would always see an elderly woman waiting for the bus. So, he decided to give the car to her—a complete stranger.
"Paul never shared that story with any of us," Drew said, "but we found out. He doesn't like to talk about things like this, but every once in a while, I think it's important, because it shows his generosity and his heart for people."
Although Mills' ORU squad fell short of making the Elite Eight in March—losing to the Arkansas Razorbacks by just two points—Mills didn't hesitate to express the pride he has in his players.
"You're obviously disappointed in the game," he said in a post-game press conference, "but you're proud of your players and just how they rally and how they fight, and going through the ups and downs that a year like this brings, especially with COVID. So what I'm most proud of is, one, who they are as people; but two, their resiliency throughout the course of the year."
A husband of 24 years to Wendy—whom he first saw in the school milk line inseventh grade—and a father to 15- and 13-year-old Audrey and Abbey, Mills has taken many of his coaching strategies into his role as a dad.
"One of the things you'll hear me say a lot is, 'Communication prevents disaster.' It works that way on the basketball court, and it also works that way at home," Mills explained. "Every single day, I ask my children to tell me one thing that happened during the day that I would only know if they told me. Sometimes it leads to something small, but other times it leads to something bigger. We've been doing this five nights a week since they were 3 years old."
Whether at home or on the court, Mills looks at life through the lens of ministry.
"We're constantly ministering," he said. "Regardless of our job title, we're always ministering. But are we ministering well?"
Mills may be the only Division I hoops coach with a seminary degree, having recently completed his master's degree in Biblical and theological studies at Dallas Theological Seminary. He believes that learning about God's character through His Word and being able to confidently communicate His truth leads to more effective ministry.
"The better we know God, the better we're going to be at ministering about God."
And as Mills prepares for ORU's next season, he's excited to see how the Lord will use the Golden Eagles to shine the light of Christ through the game of basketball.
"We continue to want to use this stage," he said. "God has given us a platform, and we want to take every opportunity to show the love of Christ to those watching us."
Photos: Courtesy of Oral Roberts University