Allen Scroggs was on a ride-along with a Portland, Oregon, police sergeant last fall when the Lord nudged him with a reminder of how vital the work was that he and his teammates from the Billy Graham Evangelistic Association were doing among police officers.
Scroggs, director of law enforcement events for BGEA, was visiting Portland as part of an ongoing Gospel ministry in the Pacific Northwest and other regions where social and racial tensions have escalated.
The police sergeant told Scroggs that the previous spring, he had heard about an upcoming BGEA Law Enforcement Appreciation Program (LEAP) dinner and told his wife about it. He was interested in going. She was skeptical, but she ended up attending the dinner with him.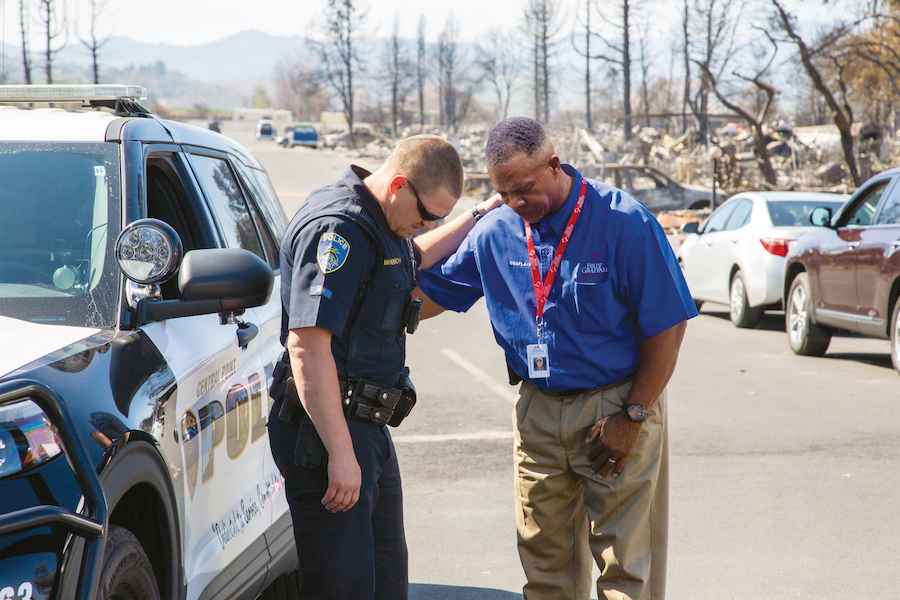 Photo: Earl Davidson/©2020 BGEA<

Edward Graham, vice president of operations at Samaritan's Purse and a former Army Ranger officer with multiple combat deployments, addressed the law enforcement officers and their spouses that night, gaining a good rapport with them.
"When I come home as a soldier, they celebrate," Edward told them. "But when you come home, your spouse is probably the only one waiting at the door. And they are so thankful that you've come home safe, one more day."
The police sergeant told Scroggs that when Edward uttered those words that night, his wife pulled her chair close to his and broke down crying.
"It was a turning point in our marriage," the sergeant said.
It's transformations such as this that the BGEA's National Law Enforcement Ministry seeks to provide in the lives of officers and their families.
The social upheaval of the last several years—with some cities literally burning at times over social and racial tensions—has caused a rise in burnout, low morale, marital strife and suicides among law enforcement officers.
"Franklin Graham's heart has been to go where the hot spots are—to provide a Gospel presence," said Scroggs, who spent a decade in law enforcement before entering pastoral ministry. In 2022, that focus will continue.
BGEA plans to continue its LEAP events while expanding its outreach to law enforcement officers through other means as well.
In April, the Billy Graham Training Center at The Cove, outside Asheville, North Carolina, will host two Law Enforcement Appreciation events, which typically feature a guest speaker and special musical guests. The goal, Scroggs said, is to create a safe environment where officers and their spouses can enjoy an evening away from their routine, feel appreciated for their sacrifices, experience camaraderie with other couples and hear the hope of the Gospel.
Other such events planned include an Executive Law Enforcement Officers Retreat at The Cove Sept. 19-21 for police chiefs, sheriffs and spouses; a Law Enforcement Officers Retreat at The Cove Oct. 24-26 for officers and spouses; and another Law Enforcement Officers Retreat in the Pacific Northwest in November (details coming soon) for officers and spouses.
Also, this summer, BGEA will host three weeklong marriage retreats at Samaritan Lodge in Port Alsworth, Alaska, for law enforcement officers who have been wounded or have suffered duty-related trauma or injuries. The retreat is patterned after Operation Heal Our Patriots, a Samaritan's Purse ministry for wounded war veterans.
Scroggs said one fruit of BGEA's outreach in the Pacific Northwest has been the spawning of voluntary Bible studies and fellowship groups in some police departments, led by law enforcement officers.
"This is where the real transformation takes place," he said.
BGEA has also been able to cooperate with The Navigators in establishing "rest stops" for patrol officers in some cities, where police can park their vehicles, gain 24/7 access to a secure building such as a church, have access to snacks and soft drinks and space to fill out reports or simply rest. On tables nearby are Bibles and literature, such as BGEA's "Steps to Peace With God" booklet.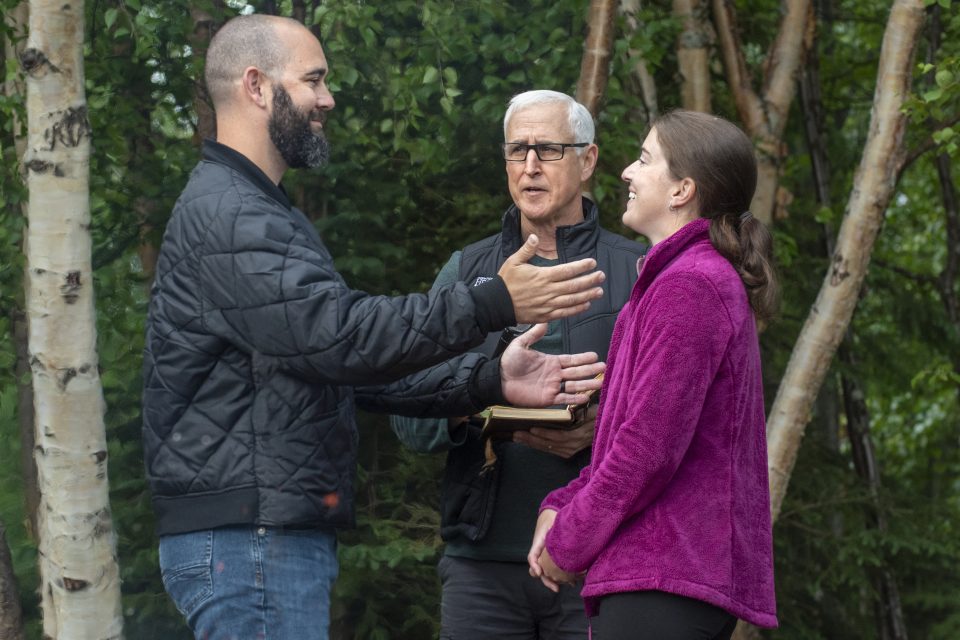 Meanwhile, BGEA's Rapid Response Team (RRT), which has deployed crisis-trained chaplains in recent months to civil unrest in cities such as Kenosha, Wisconsin; Minneapolis; Seattle; and Portland, will continue offering that same "ministry of presence" as crises emerge.
"We serve what Kevin Williams (RRT chaplain manager) on our team calls 'the critical middle,'" explained Josh Holland, RRT international director.
"We are a spiritual buffer serving law enforcement, other first responders and the public," Holland said. "We've had more than one law enforcement officer tell us that when those chaplains in the blue shirts arrived, a peace descended on what they thought was going to be a really bad situation."
For more information on the BGEA National Law Enforcement Ministry, visit BillyGraham.org/NLEM.

Above: Edward Graham speaks during the Law Enforcement Appreciation Program dinner in Portland, Oregon.
Photo: Earl Davidson/©2021 BGEA