Bedridden for nearly a year following a six-month hospitalization, 13-year-old Bobby Bowden pleaded with God to eradicate the rheumatic fever and painful swelling of his joints and knees that had rendered him barely able to walk. If God would heal him, Bowden prayed, he would serve Him for the rest of his life.
In the early 1940s, anyone who survived this malady—caused by strep throat or scarlet fever—often endured lifelong complications, including chronic skin rashes, heart disease and brain damage.
But it was that faith-infused prayer that God honored—and a commitment that Bowden kept—until his death Aug. 8 from pancreatic cancer at the age of 91. The record books rank the legendary Florida State University head coach as the second-winningest major college football coach of all time, an achievement for which he credited his Savior above all others.
"I really feel that any success that has happened to me has been because of my commitment to God and my commitment to Jesus Christ," Bowden said during the 2001 North Florida Festival with Franklin Graham. "I was 23 … before I finally realized that I'm saved through grace and not by any way that I could earn it. The key to trying to live a Christian life is making yourself available to God."
Bowden's son, Tommy, former head football coach at Clemson University, told Decision that his father's consistent example of waking up early each morning to study God's Word is a practice that he started emulating several decades ago. "I've got a picture that I took of him a few years ago, early in the morning," Tommy said. "He didn't know I took it, but he was studying his Bible. That's what I would see him doing every morning."
Tommy displayed the cherished photo during his eulogy at the Aug. 14 memorial service, which drew about 4,000 people to the Tucker Civic Center on the FSU campus, and was livestreamed.
"It would be five in the morning and that's what he'd be doing," Tommy reminisced. "He studied the Bible. He did it for about an hour every morning."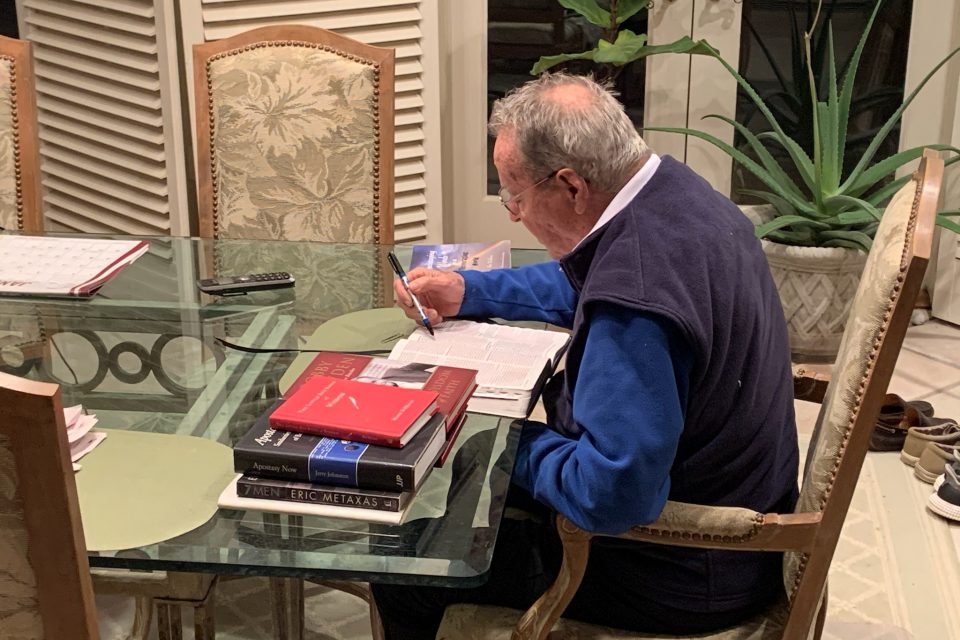 Among the speakers at the memorial service were former Georgia and University of Miami head football coach Mark Richt, whom Bowden had led to Christ as a graduate assistant, and former FSU quarterback and Heisman winner Charlie Ward. Two former Walter Payton NFL Man of the Year award recipients, Derrick Brooks and Warrick Dunn, also paid tribute to their former FSU coach.
Over three days, thousands more stood in line for hours to pay their respects where Bowden's casket lay in repose at the Florida State Capitol, the Moore Athletic Center at FSU's Doak Campbell Stadium and Reid Chapel on Samford University's campus in Bowden's hometown of Birmingham, Alabama.
Bowden had shared with the media about his terminal diagnosis in July. "I've always tried to serve God's purpose for my life, on and off the field, and I am prepared for what is to come," he said in a statement. "My wife, Ann, and our family have been life's greatest blessing. I am at peace."
Bowden's children said their parents' 72-year marriage is a testimony of enduring love and faithfulness. A love so magnetic that a 19-year-old Bowden would forfeit his football scholarship at the University of Alabama after one semester in Tuscaloosa and return to Birmingham to marry his high school sweetheart, 16-year-old Ann Estock, on April 1, 1949.
Because of his marriage, Bowden couldn't remain on scholarship at Alabama, so he transferred to Howard College, now Samford University, where he played quarterback and running back for the school, which was only a few blocks from his parents' home.
Bowden would later return as head coach at Samford from 1959-62, followed by assistant coaching stints at FSU and West Virginia before being promoted to head coach of the Mountaineers in 1970. Bowden's final move landed him back in Tallahassee in 1976, where he led the Seminole program until he retired in 2009.
Before Bowden became head coach at FSU, the team had won just four games over the three previous seasons. But from 1987 to 2000, the Seminoles finished in the top five of the final Associated Press Top 25 poll every season. Bowden guided his FSU teams to a 315-98-4 record, including 12 ACC championships and two national titles, in 1993 and 1999.
Under Bowden, FSU played in 27 consecutive bowl games, including a remarkable 15 consecutive appearances in a prestigious New Year's Day bowl game. At one point, his teams won 11 consecutive bowl contests. He is also the only coach in NCAA history to lead teams to 14 straight seasons with 10 victories or more. Bowden's 377 victories at Samford, West Virginia and Florida State are second only to Joe Paterno, who won 409 games in 46 seasons at Penn State.
Ginger Madden, the Bowdens' daughter, described her parents' mutual adoration during the memorial service and said her mom was equally responsible for her dad's record-setting career.
"She was his love," Ginger said. "She was his comfort, his inspiration. She was his muse. She supported him. She encouraged him. She strengthened him. She pushed him. She made him believe that he could do anything, and he did things he never thought that he could."
Ann Bowden said raising six children under the age of 10 was a season of life she embraced as God's calling. "I took that as my mission to do," she told Decision. "God intended for you to choose a partner and stay with them through thick and thin, through the bad times as well as the good. When you're young, you don't appreciate some of the things that you do until you get older. I think God created me to be a partner to Bobby and I really believe that, and Bobby believed that, too. And that's what I've spent my life doing."
But the gridiron battles between husband and son were less than enjoyable for the family's matriarch. In 1999, Florida State and Clemson met for the first time with Bobby and son, Tommy, on opposite sidelines. The game was dubbed the "Bowden Bowl" and was the first major college football meeting of father-son coaches. FSU won 17-14, the first of four straight victories for Bobby Bowden over his son's teams.
Tommy's Clemson squad upset No. 3 FSU 26-10 in 2003—on his dad's 74th birthday—knocking the Seminoles out of the national championship race. Bobby Bowden held a 5-4 advantage over his son in head-to-head meetings while Tommy was head coach at Clemson.
In the 1990s, Bobby, Tommy and his younger brother Terry became the first father-son trio to each lead a Division I college football program to an undefeated season and also be named Coach of The Year. Terry went undefeated in 1993 as head coach at Auburn University, followed by Tommy at Tulane University in 1998, and Bobby's FSU team went undefeated in 1999 en route to a second national championship in a decade.
Terry, in his first season as head coach at the University of Louisiana at Monroe, shared during the memorial service how following a family tragedy in 2004, his dad made it abundantly clear what mattered most to him. When Bowden's son-in-law and grandson were killed in an automobile accident, he wrote a letter to his family, which Terry read at the memorial service.
"When I die and go to Heaven—and I know I will—if all of you and your family are not there with me when that time comes, when your time comes, I will consider myself to have failed in life," Bowden wrote. "All the statues, trophies, championships, etc., will be in vain."
Terry said he is more thankful for his father's Christian influence on his life than his football pedigree. He recalled thankfully that while his dad was head coach at West Virginia, he taught his sons' Sunday school class and often preached at area churches. And at FSU, Bowden regularly took his players to church and led daily devotions in staff meetings. In retirement, Bowden spoke often at fundraising events for the Fellowship of Christian Athletes.
"I don't want one player to ever play for me that I don't do for them what my father did," Terry said. "I'm called to share the Gospel, and I'm going to do that. And that's something that my dad did all his life."

Above: On the final game of his coaching career, Florida State head coach Bobby Bowden is hoisted on the shoulders of his players after defeating West Virginia, 33-21, in the Gator Bowl at Jacksonville Municipal Stadium, in Jacksonville, Florida, on Jan. 1, 2010.
Photo: Stephen M. Dowell/Orlando Sentinel/MCT/Newscom