"There's something you need to do." Those were the last words Delia heard from her mom before she died. And during Franklin Graham's God Loves You Tour stop in Liverpool, England, she finally discovered what that "something" was.
Say "yes" to Jesus Christ.
The first night of the Tour drew over 3,500 people from around the U.K. to hear the Good News. Hundreds responded to the invitation to receive Christ.
'God Has a Plan'
A London native, Delia was on vacation and decided to prolong her holiday by visiting Liverpool. There was no reason for choosing Liverpool, she explained, "Something just kept drawing me here."
While walking through the city center, a street evangelist named James caught her eye. He had come from London to promote the event, and as she stood there listening, he handed her a card with the details. So she found herself sitting alone in the back of the venue listening to Franklin's message. It centered around the Prodigal Son—a young man who ran away from home and lost his way, only to hit rock bottom. When he decided to come home, he met his father running to him with open arms.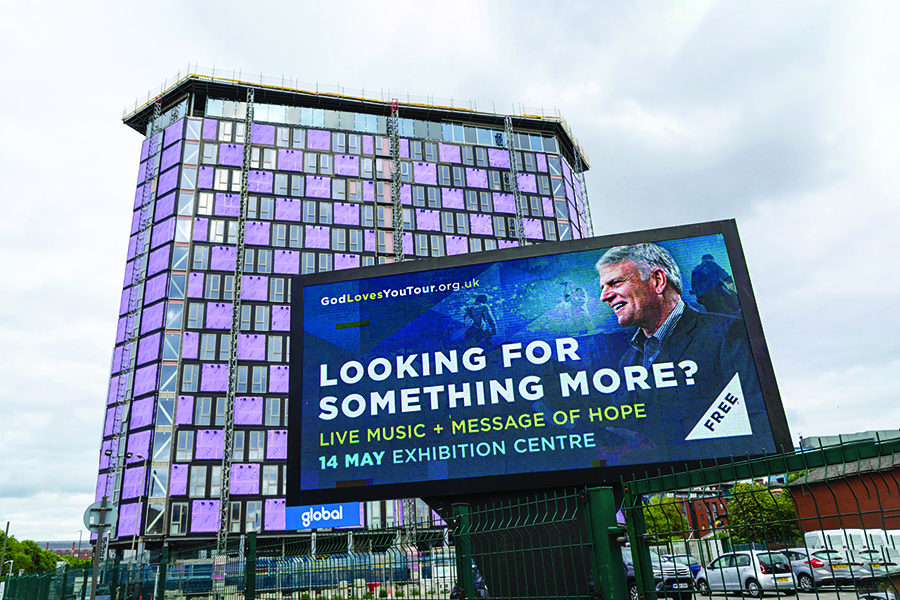 "You see, God made us," Franklin said May 14. "And did you know that God has a plan, a purpose for your life? He wants you to have peace … He wants you to know you'll be with Him in eternity."
Franklin's message touched Delia's heart, and when he urged people to turn from their sins and choose Jesus, she whispered the prayer of salvation after him.
Legal (and Spiritual) Battles
The Liverpool event marked more than three years of planning—and the answer to many prayers.
In 2020, Franklin had an eight-city Tour scheduled for cities across the U.K. However, opposition to his Biblical beliefs pressured contracted venues to cancel, forcing BGEA to take legal action, and then COVID-19 forced the Tour to be postponed. Some venues were willing to discuss BGEA's concerns and find a constructive solution—including the ACC Liverpool Group, which manages the venue where the event would be held. As they said in a statement, their commitment to inclusion includes everyone, and as a result they would allow BGEA to hold the event.
Venues in Sheffield and Wales reached similar agreements, and an alternate London venue was added. Other cases are still being resolved.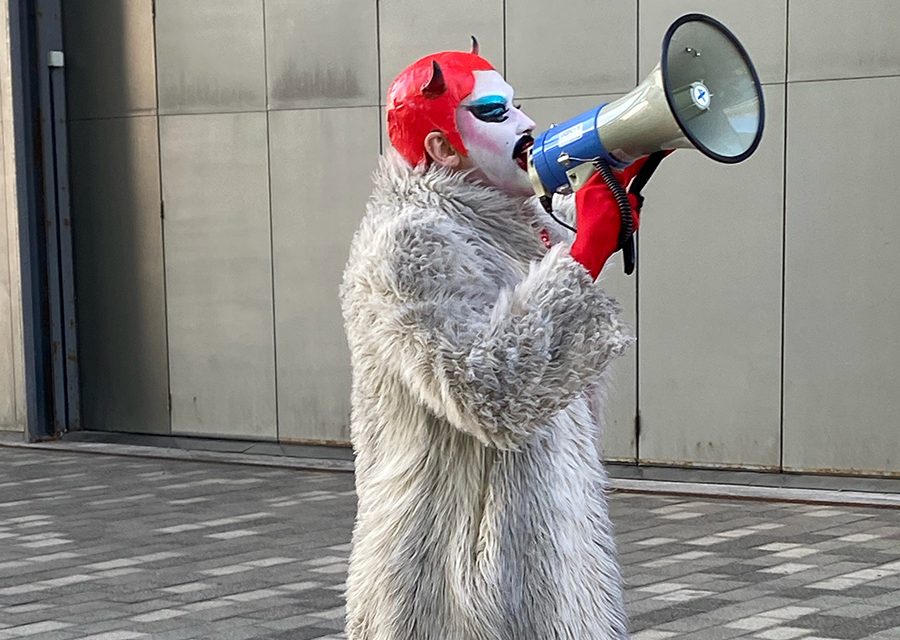 In a way, God opened the doors to the venue in Liverpool so Delia could find that seat in the back of the room.
A God-Ordained Meeting
Tami was also standing in the back. A long-time volunteer with BGEA, she was there supporting her husband, helping however she could. As the counselors moved to the front, she wondered if she should go forward to help.
Then a man walked over to her and gestured to a middle-aged woman sitting alone in the back, her hand raised.
Tami walked up to the woman and introduced herself. "Are you from Liverpool?" she asked.
"No, I'm not," the woman said. "I don't even know why I'm here." But her coming was a miracle, Tami said—and clearly God-ordained.
"I think the Lord really draws [people] to Himself, and I think the Lord's really drawing you," Tami told Delia. "Do you feel that?"
"Yes, I do, I really do," Delia said. She told Tami she had repeated the sinner's prayer, repenting of her sin and putting her faith in Jesus Christ, and the two prayed together as the woman confirmed her decision.
"I was happy that even though she was alone, now she could have hope," Tami said after the event. "She was searching, and I kept thinking about that. It was almost like God was setting up her heart."
He was. Just as He was setting up the hearts of hundreds of others who would choose to follow Jesus, in Liverpool and beyond.
Sister Act
Ruth and Diana, both event counselors, stood at the front of the room praying for just the right two people to come forward. When sisters Claire and Collette spotted the women, they shared a moment of—Wait, don't I know you?
All four had ridden the same bus from Chester, a small town some 45 minutes away. And in a crowd of thousands, as the invitation song started playing, they found each other. Claire had let her relationship with God grow cold while Collette had never made a decision to follow Jesus. Both prayed along with Franklin and committed their lives to Jesus.
"You have to know," said Ruth, who had been praying for years for this night. "God's timing is never late. He's always right on time."
Diana was floored at how God moved inside Liverpool's Exhibition Center.
"It was just wow," she said of the response to the invitation. "It was amazing this many people came forward. And it was lovely talking to people."
Now Diana and Ruth—and hundreds of other believers in Liverpool—are motivated to share the love of Christ with more people than ever before.
"It really encouraged us," Ruth said. "And it inspired us."
Cheri Stutzman is a digital content writer for BGEA's Digital Ministry Services department.
Photo: Thomas J. Petrino/©2022 BGEA