It's been nearly 30 years since Michael W. Smith took the stage at "Youth Night" during Billy Graham's Northeastern Ohio Crusade at Cleveland Stadium.
For the first time, George Beverly Shea, Cliff Barrows and the traditional choir gave way to Christian rap group DC Talk as well as the chart-topping singer, songwriter and musician, before Mr. Graham preached to some 80,000 people that Saturday night in 1994.
"My job was to change the atmosphere and to prepare the hearts of these kids for what they were going to hear from Billy," Michael told Decision.
BGEA's unprecedented move to deviate from its longstanding format had plenty of skeptics within and outside the ministry, Michael recalled. Some even questioned if Michael should share the stage with Mr. Graham during Youth Night. His 1991 song, "Place in This World" from his Christian album, "Go West Young Man," had climbed to No. 6 on the pop music "Billboard Hot 100," garnering him a hosting gig on cable TV's "VH1 Music Countdown."
"I wasn't even trying to go pop," Michael says. "It was a great opportunity to be a light in the darkness. Billy believed in me, and that goes a long way for a kid trying to find his way."
In fact, the Crusade leveraged Michael's crossover appeal by purchasing advertising for their Youth Night on local pop radio stations as well as the local MTV affiliate.
"It was a risk, but I believed in every bit of the risk because Billy felt like we weren't reaching the next generation," Michael says. "The clincher for me was to watch 10,000 kids come forward. And then I'm undone. I mean I'm weeping on stage. I get choked up talking about it. These kids start walking down the aisle, and they just kept coming, and they kept coming and they kept coming. I will never forget it the rest of my life."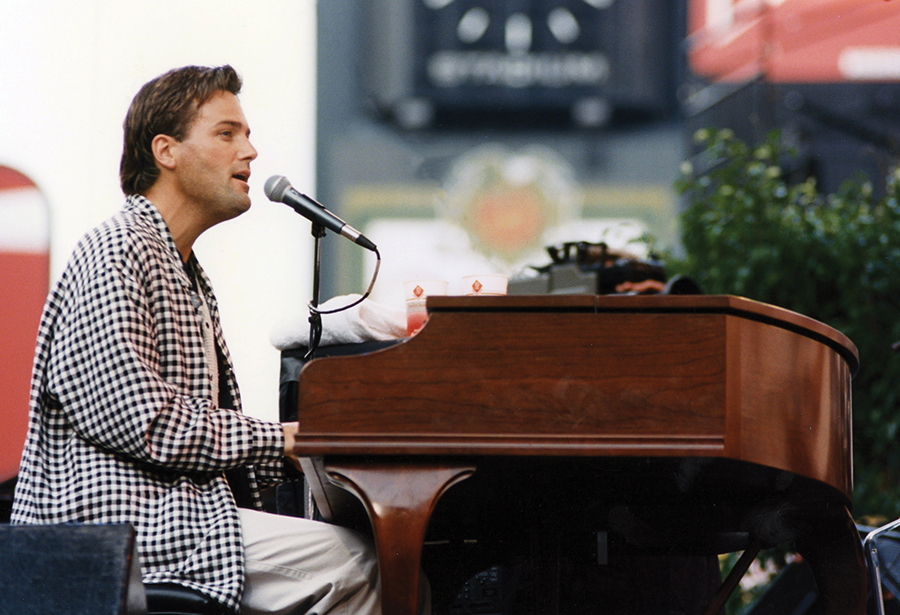 From then on, Michael appeared on Youth Night at nearly all of Mr. Graham's Crusades, including his final mass event in New York's Flushing Meadows Corona Park. And still today, he often leads worship at Franklin Graham's Festivals around the world—most recently in March for the Spring Love Festival in Vietnam.
He's performed before presidents and kings, in packed arenas, stadiums and on beaches filled with tens of thousands of worshippers that stretch for miles. But it's his decades long ministry partnership with the Grahams that he describes as "life-changing."
In his latest book "The Way of The Father—Lessons From My Dad, Truths About God," published in 2021, Michael writes about Billy Graham's impact on his life: "Over the years when I had the opportunity to visit with Reverend Graham, always before I left, he prayed with me. In those moments I sensed he was imparting something from the Lord to me. With him knowing the calling on my life in music, I had a strong feeling that he was spiritually fathering me." And it was Michael's honor to sing at Mr. Graham's funeral in 2018.
After 40-plus years, Michael says, hearing his worship songs and praise anthems sung simultaneously in both English and native tongues across the globe is indescribable. "The whole music thing is a phenomenon to me," he admits. "I personally believe it's the most powerful universal language of the world. It's amazing how I've had so many people tell me they got saved after listening to "Above All" or listening to "Agnus Dei."
Michael writes in his book: "I learned that the songwriting process for me is more like catching something that falls from Heaven than calling on something that comes from me."
His book largely recounts the faithful Christian influence of his dad, Paul, and the steadfast love he had for his son throughout his life, including Michael's self-described prodigal years in his late teens and early 20s, when he began experimenting with drugs.
After growing up in his hometown of Kenova, West Virginia, about 20 minutes from Huntington near the Kentucky and Ohio borders, Michael dropped out of Marshall University halfway through his second semester and moved to Nashville, Tennessee, to pursue his aspirations of becoming a Christian recording artist.
He had begun playing the piano by ear when he was 5 years old. At 10, he professed his faith in Christ, and at 15 he prayerfully shared with his pastor about sensing God's call on his life to use his musical gifts for His glory.
As a teenager playing in garage bands during the Jesus Movement, Michael's musical interests included Elton John, Billy Joel and Kansas. But it was the long-haired Christian artists such as Randy Stonehill, Larry Norman and the group 2nd Chapter of Acts, along with Andre Crouch, who inspired him the most. "I was a Jesus freak," Michael says.
But after moving to Nashville in 1978, the 21-year-old piano player and fledgling songwriter experienced the shock of his life that October when he snorted what he thought was cocaine. "It was something else," Michael recalls. As blood gushed from his nose, he says he desperately prayed, "God please don't let me die. I need a rescue because I believe that You've got a call on my life, and the devil's trying to kill me. Do whatever You have to do, just don't kill me."
Michael's downward spiral continued for about a year. "In late November of 1979, I hit rock bottom, and I was literally on my linoleum floor in my apartment convulsing and shaking and weeping for 3 1/2 hours," he says. "I felt like I was having a nervous breakdown, and I felt Abba come down and lay on the linoleum floor and He put His arms around me. I haven't been the same sense."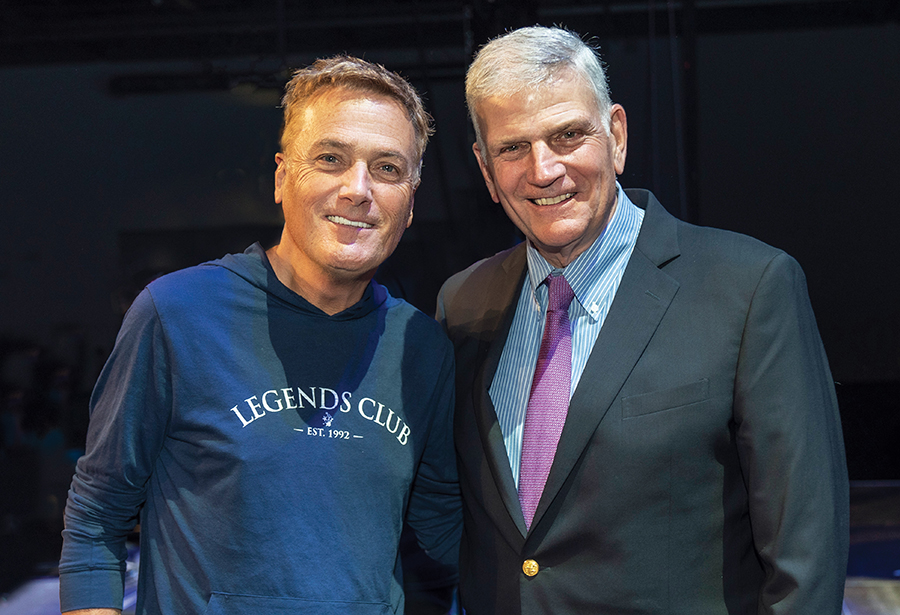 Over the next two years, Michael's life and career did a 180-degree turn. He became the pianist for a gospel band called Higher Ground, which provided the spiritual accountability and nurturing he desperately needed. Then he began collaborating with Christian recording artist Amy Grant; married his wife, Debbie Davis, after a six-month courtship; and recorded his first Christian album.
Michael writes in his book, "One of the reasons I have spent many years creating worship music is because I have experienced the One who, as Paul said, freed me from this life that is dominated by sin and death. The sense that I cannot thank Him enough produces personal worship."
With more than 15 million records sold, including nearly three dozen No. 1 hits, three Grammy Awards, an American Music Award and nearly 50 Dove Awards, Michael began to re-evaluate his priorities in 2015.
His father died that November while he was leading worship with Franklin at a Festival in Tokyo. While grieving his father's passing throughout much of the next year, Michael thought he might never record another album. Then while meditating on Scripture during his daily Bible reading, he was burdened by The Message paraphrase of the Book of Amos, chapter 5.
"It's a scary thing when you're a musician and you're leading worship and writing songs and then here's God saying, 'Turn it off, I don't want to hear it anymore, if you're not standing up for those who don't have a voice, if you're not seeing justice roll like a waterfall, then I don't need the songs.'"
So, Michael recommitted himself to making an eternal difference in people's lives through his nonprofit youth center in Nashville called Rocketown and his advocacy with President George W. Bush for HIV/AIDS relief programs in Africa.
"The greatest joy of my life is not another music award, but hearing a kid tell me 'I was contemplating suicide, but came to Rocketown, heard the truth, and got loved on,'" Michael writes. "Worship is not a Sunday morning event but a life experience. Worship is our expression of God's love and life to the world."
Michael has authored 14 books, acted in several Christian films and founded a new church. Now, at 65, when he's not on tour, he enjoys spending time with his 17 grandchildren on his farm in Franklin, Tennessee. He has collaborated on various creative and ministry projects with his five adult children. "It's a musical family," he says.
And while he was quick to propose marriage to Debbie, after only 3 1/2 weeks of dating, the past 41 years as husband and wife, Michael says, have been a gift of God's grace second only to his salvation in Christ.
"What a great wife, a godly woman," he says. "I would be toast without her." ©2023 BGEA
Photo: Courtesy of Michael W. Smith