Before seven-time Grammy winner TobyMac released his first single of the year in February, he wondered if he "would ever write another up-tempo, throw-your-fist-in-the-air song," following the death of his 21-year-old son, Truett, nearly two years ago.
"I had written many songs since Truett's passing and most of them had been like heart heavy, intense in the valley," Toby tells Decision.
But then one morning during his devotional time, Toby read the paraphrase of Psalm 98 from The Message. It struck a chord.
"I read that God is rolling up His sleeves, and I just thought what a promise that is, what comfort to think that the God of all creation is literally rolling up His sleeves on our behalf," Toby says. "And then I thought—On my behalf."
From there, the chorus for "Help Is on the Way (Maybe Midnight)" uncharacteristically flowed from pencil to paper for the 56-year-old Christian hip-hop recording artist, songwriter, music producer and author. Admittedly, he tends to labor over his lyrics. "Usually, I'm a bit more of a crafter, but that poured out of me," he says.
Describing himself as a "glass half-empty guy" who creates by processing, studying and analyzing, Toby says he often prays, "Help me to wake up and get on the edge of my seat where I open my eyes with wonder of what You're going to do with this day."
Although he and his family continue to grieve Truett's passing from an accidental drug overdose, they are claiming "the joy of the Lord" as their strength, while their hearts remain grateful for God's goodness and faithfulness.
"The old C.S. Lewis quote, 'Pain is God's megaphone,' has been true so many times in my life," Toby says. "There's a lot of beauty that comes from the ashes. There's a lot of difficult things that lead us down the path so that we are totally dependent upon a big God."
And for Toby, whose official name is Toby Kevin Michael McKeehan, the overwhelming truth that God is love fuels his passion to worship Him and love and lead his family well.
"Through the hardest of things, love is the most important," he says. "And the thing I hold on to with all my broken heart is Truett's last text to me, where he said, 'You've always believed in me, Dad. You make me feel like a super-hero.' And one thing about that boy, he knew he was loved by God, and he knew he was loved by his mother, Amanda, and me. And that's what I take away from God, is that He loves me. And I think to pass that on is important."
As Toby experiences his second Father's Day without the eldest of his five children, he says he's also comforted to know that Truett loved Jesus.
"No matter what it looks like, I know my son was very, very intimate with Jesus," he says. "Sometimes I would be in awe of how personal it was. He would read the Word, and he would call Amanda excited to share what he read. It moved his heart. He had a real relationship. It wasn't a stagnant 'There's the Bible; I shall read it' relationship. It was real. My son loved God, and that was my prayer."
Truett died Oct. 23, 2019, at a home in the Nashville area, the day after Toby's 55th birthday. The medical examiner's autopsy report listed the cause of death as an accidental overdose of fentanyl.
Meanwhile, Toby and Amanda have continued to share their grief in light of their eternal hope in Christ with their more than 5 million social media followers. And national media outlets, including ABC's Good Morning America, NBC's Today Show, and entertainment magazines Variety and People, have also reported of Toby's and Amanda's testimony of faith amid their personal tragedy.
In a tribute to Truett on Facebook and Instagram the day after his death, Toby declared: "We don't follow God because we have some sort of under-the-table deal with Him, like 'we'll follow You if You bless us.' We follow God because we love Him. It's our honor. He is the God of the hills and the valleys. And He is beautiful above all things."
Before pursuing a solo career as a rap artist, Truett was featured with his dad on five consecutive TobyMac albums, from ages 6 to 16. But by his late teens, his self-produced music was garnering more and more followers. A week before his death, Truett realized the culmination of a dream he had since he was 12, when he took the stage for his first show in Franklin, Tennessee.
Toby was in the audience and described Truett's performance as "electric." It would be the last time he saw his son alive before boarding a plane the following morning to launch a concert tour in Canada. Less than a week later, Toby canceled his tour and returned home to plan Truett's funeral.
A month later, around Thanksgiving, Toby posted on his social media accounts: "The place of death is actually where all that we believe is most significant. That God has the power to do what He promised, defeat death and give life to anyone who believes. So, from the valley of the shadow of death we pray a flood of thankfulness will rise this week."
Providentially, over the weeks and months that followed amid the COVID-19 pandemic, Toby was sequestered at home with his wife and four teenagers as they weathered their waves of emotion.
With the suspension of his "TobyMac Hits Deep Tour," the northern Virginia native rediscovered some songs stored on a computer that he had written and demoed between 2014 and 2018. The songs had not been included on any of his chart-topping albums, but several of them resonated with him like never before.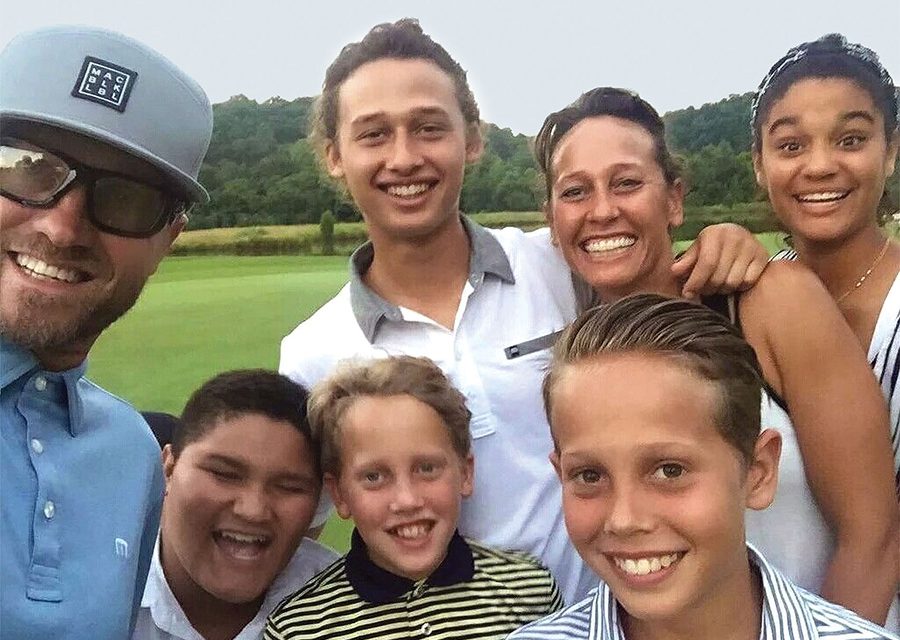 In "The Real You," Toby wrote about trying to help guide Truett during a wayward season of his life. In 2017, he and Amanda made the hardest decision of their lives when they asked Truett to move out of their home when he was 19. At that time, they felt they had to shield their four younger children from their firstborn's rebellious behavior.
Toby says that song, which was produced and released last year, was his way of personally reminding Truett that he loved him unconditionally and wanted God's best for him.
"I can't let it go. I can't watch it all fall apart and sit on the front row," the lyrics say. "So, I'm crashin' in, to find the you that knows the truth. That's what it means to be a friend. I ain't gonna walk right by you and miss it. I'm gonna take the time to listen."
In Toby's song, "Scars," released and dedicated to Truett in 2018, he laments his relationship with his son and implores him to "lift your head to where your help comes from."
Scroll through TobyMac's Instagram posts and you get a glimpse of what it's like to be on tour with his multi-ethnic Diverse City band members. And among dozens of images from sold-out concert arenas, you'll find photos and videos of a husband who adores his Jamaican-born wife of 28 years, and enjoys giving his children haircuts and hanging out with them at skate parks and golf courses.
For his birthday on Oct. 22, Amanda honored her husband with this social media post: "Toby has led us through the valley of the shadow of death this year with strength and humility and it has been our honor to walk with him," she wrote. "Babe, may the world know that we, your family, declare that your public image pales in comparison to your private personhood."
Before his music career launched in 1989 with DC Talk, Toby aspired to be a professional golfer while competing at Liberty University in Lynchburg, Virginia, and earning a political science degree with a business minor. Now, with more than 12 million units sold, Toby says he cherishes the opportunities he had early in his career to tour with Billy Graham's evangelistic events.
In June 1994, DC Talk, along with Michael W. Smith, headlined the newly formatted youth night at a Billy Graham Crusade in northeastern Ohio, the first of more than 20 such crusades. Twenty years later, Toby led worship at Franklin Graham's Rock the Lakes Festival in Erie, Pennsylvania.
Youth ministry has long held a special place in Toby's heart. He remembers fondly the youth pastor who led him to faith in Christ as a 13-year-old at a summer youth camp. And he's thankful to have known the late evangelist Luis Palau as "Papa Palau," whom he claimed as kinfolk by marriage on Amanda's side of the family.
"I try really hard to view music as a gift that God's given me to share with people," Toby says about resuming his concert tours this summer. "Really, it's sharing His love with people through music, of course, but He's blessed me to where I could do what I love to do and sing about Who I passionately believe in. And kind of take life and chop it up and look at it through this lens of walking with God. To just get a moment to turn peoples' eyes to God during a concert or during a three-minute song, that's my honor."
Toby attributes God's blessings on his life and music career to his willingness to accept God's call on his life—not to be a Christian recording artist, but simply a servant. He cites a pivotal test of obedience in 2002 when he and Amanda had been praying for several days that they would conceive twins. God quickly answered that prayer by leading them to adopt biracial twins from a birth mother who initially wavered on her decision before finally agreeing.
"We are not the McKeehans without Moses and Marlee," Toby says. "Right when we adopted the twins, we got pregnant with Leo and then Judah so quickly. I have full faith that God directed our path there."
And daily recognizing Jesus as Lord over all, Toby says, continues to be his life's mission.
"If we dare call Him 'Lord,' that makes us a servant," he says. "A servant's job is to wait. To wait on the request of his Lord. And that's how I look at songwriting. That's how I look at touring. That's how I look at fatherhood. That's how I look at being a husband. Wait on the request from your Lord and then move on it. Too many times, we take it into our own hands and get ahead, and that's not what a servant does."
Photo: Jason Walle/ZUMA Wire/Newscom