They called it the Freedom Convoy.
In late January, thousands of Canadian truck drivers and other citizens converged in the Canadian capital of Ottawa to protest the nation's COVID-19 restrictions. At one point, some 4,000 protesters filled the streets around Parliament, essentially shutting down the core of the city for more than two weeks.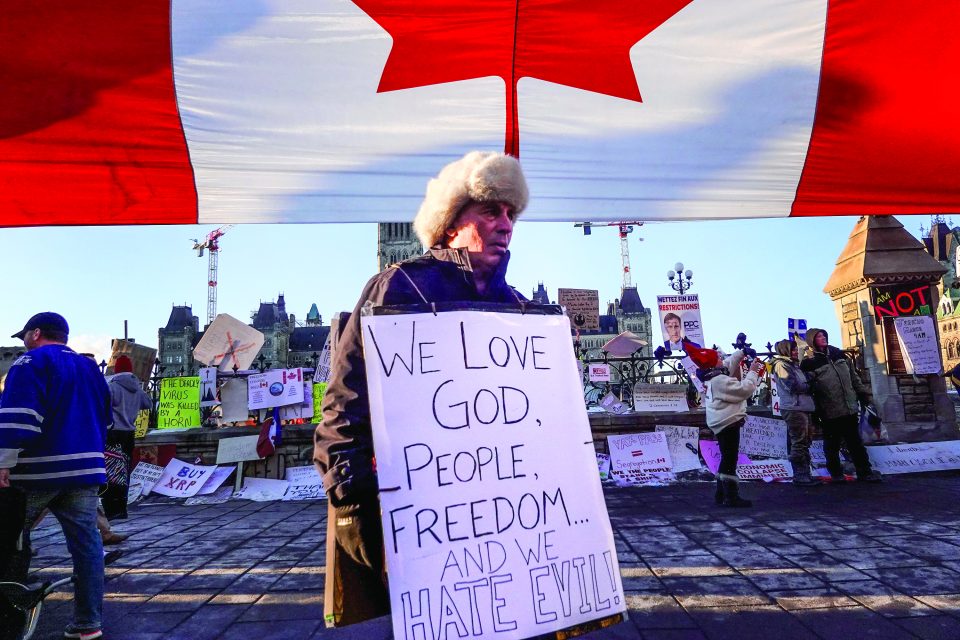 For many protesters, the impetus had been a mandate that required Canadian cross-border truckers to be vaccinated against COVID-19. But observers say the previous two years of fluctuating restrictions—including church shutdowns, vaccine passports and limitations on indoor gatherings—set the stage for a pushback against what many considered government overreach into private lives.
The protests were overwhelmingly peaceful, and people on the streets said they were struck by a palpable feeling of joy and love among the protesters, a majority of whom actually appeared to be Christians, said Merle Doherty, Rapid Response Team manager for BGEA Canada. Doherty spent close to two weeks ministering in Ottawa.
The Christian component was obvious to secular media as well, as highlighted in a Feb. 15 CBC article.
"Christian faith—with an overtly evangelical feel—flows likes an undercurrent through the Freedom Convoy in Ottawa," the article noted.
Trucker George Dyck told CBC: "God keeps telling me, 'Stay where you are. Don't go anywhere. You are doing the right thing.'"
On The Daily Signal Podcast, Nate Hochman of National Review described the scene in Ottawa as "this weird intersection of a music festival and a Christian worship service. … It's a very Christian movement. There's a lot of prayer, spontaneous prayers. They say the Lord's Prayer in French and English every night at 7 p.m."
On Feb. 11, protesters began circling the Parliament precinct once each morning, praying and singing in what they called "Jericho Prayer Marches." On Feb. 17, they marched around Parliament seven times, after which all the trucks blew their air horns for a full seven minutes.
These protests were about much more than COVID vaccines. Franklin Graham identified the root concern in a Facebook post Feb. 8: "The issue isn't primarily masks or vaccines," he said. "The issue is freedom, the freedom to make our own choices."
Franklin added on Feb. 15: "I'm thankful for the vaccine, I believe it can save untold lives—but let people choose for themselves."
BGEA responded to the protests by sending crisis-trained chaplains from the Billy Graham Rapid Response Team to Ottawa in early February. Chaplains prayed with protesters, their families, police, government employees and casual pedestrians.
"The overall attitude is absolutely one of joy on the streets here," Doherty said. "However, there are lots of hurting people. They've lost their jobs; they've had family splits because of vaccine status."
One day, a chaplain struck up a conversation with a woman from Montreal who said she wasn't sure why she had come to Ottawa, but she couldn't shake the feeling that she needed to be there. The chaplain suggested that maybe it was to meet Jesus Christ. They went through BGEA's "Steps to Peace With God" booklet together, and the woman prayed to commit her life to Jesus Christ.
Another day, a chaplain spoke with a Muslim man who said he had walked up Parliament Hill and was amazed by the friendly people and loving atmosphere. The chaplain asked if he wanted to know what was creating that atmosphere, and he indicated he did. After reading "Steps to Peace With God," the man prayed to receive Christ.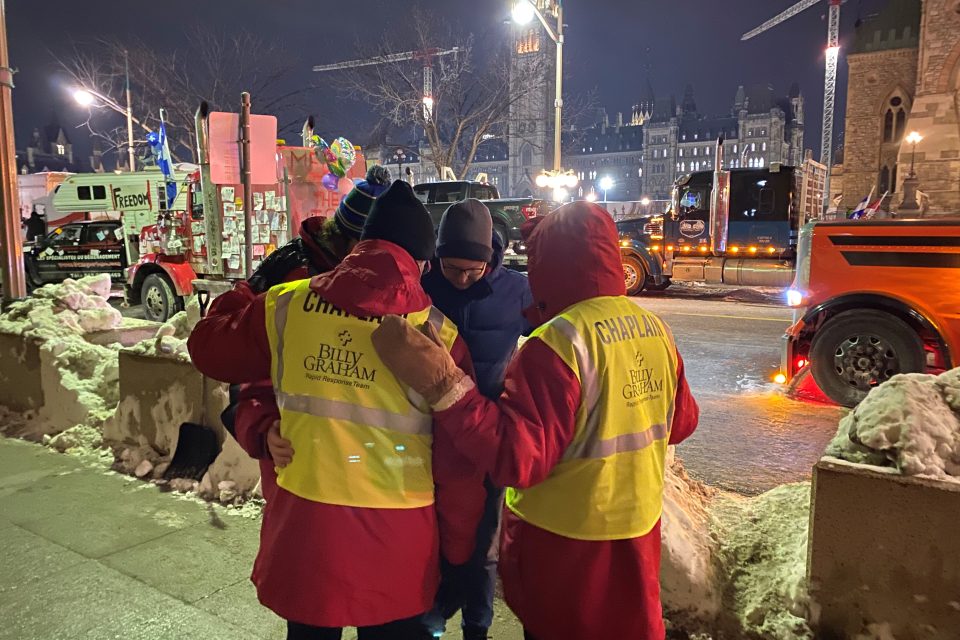 Through Feb. 15, chaplains had prayed with more than 630 people, and seven had prayed to receive Christ as Savior.
As this issue of Decision went to press, the situation was changing quickly, as Prime Minister Justin Trudeau had moved to end the protests by invoking the Emergencies Act—a never-before-used measure that gives the government broad powers that are only to be used in the most perilous national emergencies. But at the same time, several provinces, including Alberta, Ontario, Prince Edward Island, Quebec and Saskatchewan, were scaling back the COVID restrictions that led to the protests in the first place.
"This is about democracy and freedoms and liberties," said Ontario Premier Doug Ford of easing restrictions. "I hate as a government telling anyone what to do; we just have to get out of this and move forward and protect the jobs."
Photo: Nurphoto/Getty Images