For years, Aaron Edwards, a theology professor at Cliff College in Derbyshire, England, had warned his peers that the school's historic evangelical identity and the right of faithful believers to speak out was going to be challenged if British Methodists voted to permit same-sex marriages.
But, Edwards says, "I never really imagined that I was going to be the fall guy."
On Feb. 19, Edwards decided to address what he sees as a shift among British evangelicals. On Twitter, he wrote that homosexuality was "invading the church" and that "Evangelicals no longer see the severity of this [because] they're busy apologising for their apparently barbaric homophobia, whether or not it's true.
"This is a 'Gospel issue,' by the way. If sin is no longer sin, we no longer need a Savior," Edwards wrote.
A firestorm ensued. Within a few days his superiors suspended him, then fired him on March 8 from his position at Cliff College, an affiliate school of the Methodist Church in Britain where he'd served for seven years. Cliff College has a rich history; Samuel Chadwick, the renowned evangelist and pastor, once served as principal. Billy Graham preached at the college in 1954, and the late revivalist and author Leonard Ravenhill was once a student there.
In documents Edwards was able to review, college officials even suggested that his tweet might warrant a referral to the United Kingdom's anti-terrorism office, called Prevent.
Edwards, who is married with five children, says he isn't sure if the anti-terrorism watchdog was seriously considered or merely a scare tactic, but he is now without a job and had received an eviction warning from his landlord when Decision spoke with him.
Edwards' case is among a raft of similar religious discrimination and free speech cases in the U.K. over the last several years. And he's not the only clergyman reported or threatened to be reported to Prevent.
A Christian school chaplain ordained by the Church of England (CofE), for example, is appealing an employment tribunal ruling against him after he was forced out for telling students in a chapel sermon that it was OK to question LGBTQ ideology. Bernard Randall, who served as chaplain at Trent College near Nottingham, was secretly reported to the British anti-terrorism watchdog after delivering a 2019 sermon on identity politics.
Randall contends he was seeking to answer questions that teenage students had asked him about an LGBTQ-affirming diversity and inclusion program that was being pushed on schools across Britain, including in the CofE school where he taught.
Pro-lifers in Britain have also felt the heat lately. In February and March, police arrested several for allegedly violating local ordinances by silently praying near abortion clinics. Parliament's response to these arrests was to pass a national buffer zone statute that opponents say will flagrantly violate free speech and rights of conscience. The law would allow potentially exorbitant fines for silent prayer and consensual conversations within 150 meters of an abortion facility.
For many of the people running afoul of these cultural demands, they are simply practicing what the Bible teaches and what Christian churches have overwhelmingly believed about marriage, sexuality and human life for most of 2,000 years.
Randall said in a statement to Christian Concern, "My story sends a message to other Christians that you are not free to talk about your faith. It seems it is no longer enough to just 'tolerate' LGBT ideology. You must accept it without question and no debate is allowed without serious consequences. Someone else will decide what is and what isn't acceptable, and suddenly you can become an outcast, possibly for the rest of your life."
These cases warn Christians, especially teachers and clergy, that they must count the cost of their convictions.
HOW DID WE GET HERE?
Andrea Williams, CEO of London-based Christian Concern and its Christian Legal Centre, which represents both Edwards and Randall, says when she qualified as a barrister in 1988, she never imagined having to defend teachers, clergy or others for publicly questioning such things as homosexual marriages, transgender policies that deny biological reality, or buffer zone laws criminalizing silent prayer. In the late 1990s and early 2000s, Williams says she was beginning to see a few cases of religious discrimination against Christians, but mostly on college campuses.
"At the turn of the century, we would have two or three high-profile cases a year. But now it's a high-profile case every single week," Williams says. Christian Legal Centre gets about 1,000 inquiries on potential cases every year and has to pass on most of them.
Williams says it's a sad irony that Britain, which gave the world the Magna Carta and English Common Law rooted in a Judeo-Christian view of humanity, is now firmly entrenched in a type of secular human rights law that inevitably pits sexual rights against religious freedom and rights of conscience.
When Britain passed its 1998 Human Rights Act, it brought the nation into line with European human rights laws, along with emerging "equality and diversity" policies in the private sector. These equality and diversity policies—pushed by LGBTQ activists in business settings, in schools, and even in churches—effectively gives them the force of what Williams calls "folk law." By the time a particular issue is weighed in a court or a legislative body, it already holds sway in the court of public opinion.
"And what we've seen with the enshrinement of LGBTQI rights within an equality and diversity framework is that the claims of those identifying with LGBTQI become on a par with legal protections for religion."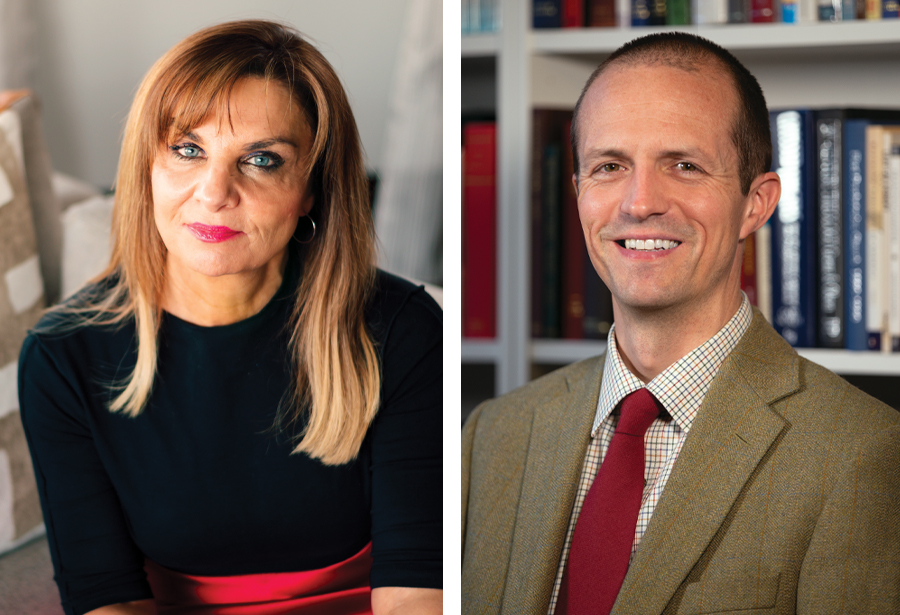 Peter Sanlon, a former CofE minister and Cambridge Ph.D. who is now pastor of Emmanuel Anglican Church in Tunbridge Wells, southeast of London, says the prevailing philosophical and cultural forces have built enough momentum across several generations to gain legal standing while also accelerating doctrinal erosion in the churches.
That erosion drove him to conclude that he could no longer serve the Church of England and remain faithful to God.
"The end result today is that Christians know and are reminded by media stories that if they openly speak of Biblical teachings about sexuality, hell, the uniqueness of Christ—they are in danger of losing their job, being canceled by the wider culture, and even being ostracized by churchgoers who hope to make some kind of peace with the hostile culture."
But while the mood of believers in the U.K. is "somber," Sanlon says there are some reasons to be hopeful because "God is at work in the U.K. and He is determined to glorify His Son, Jesus."
"To the extent that we are willing to be overlooked by the world," says Sanlon, "and to be conformed to the image of Jesus who suffered in shame—we will become the kinds of people God can use to draw our neighbors to His love. I see that happening in churches around the country, and I pray it continues under God's control."
Meanwhile, Edwards, the professor, is not backing down. He says he is convinced British evangelicals have been polite to the fault of losing their prophetic voice.
"Where we need to be gentle and not repay reviling with reviling, as the Apostle Peter says, we should listen to Scripture," Edwards says. "But pray for courage, because that's what we lack most." ©2023 BGEA
Photo: Courtesy of Christian Concern